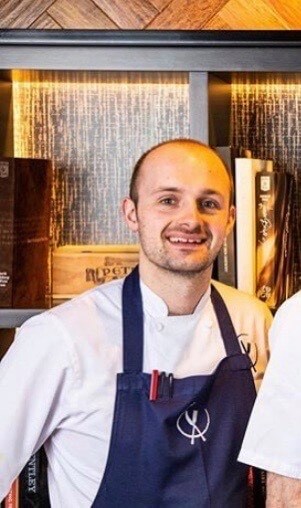 KEIRON STEVENS
Keiron Stevens is the Head Chef of 1 Michelin Star Adam's in Birmingham. Keiron's background is as prestigious as it gets and includes his initial culinary training at 2 Michelin Star Le Champignon Sauvage in Cheltenham, The Latymer at Pennyhill Park in Bagshot, Gidleigh Park as well as one year at the illustrious 3 Michelin Star Benu in San Francisco. We asked Keiron some questions about his incredible career to date.
Where did you train professionally?
"My first job was an apprenticeship at then 2 Michelin starred Le Champignon Sauvage in Cheltenham, under David Everitt-Matthias, so most of my training was undertaken by David and the team. I also went to University College Birmingham one day week for a year to get my official qualification."
What is your proudest moment as a chef?
"Completing my year at Benu in San Francisco; that was one hell of a year."
What made you decide you wanted to be a chef?
"I actually wanted to be a chef from quite a young age, however I wanted to become an army chef; the main reason being I'd get to travel the world. I did my work experience from school at a local restaurant. It was then that I realised that I wanted to work in fine dining kitchens. I enjoyed the food, the ingredients and service; I enjoyed the buzz. It was then that I set my sights on Le Champignon Sauvage and wanting to learn as much as I could."
What is your favourite dish to cook in the kitchen?
"So at Adam's we use some incredible XL hand dived scallops which we get from M and J seafood. There isn't a better feeling than roasting a beautiful monster scallop and finishing it in loads of foaming butter and seeing it go up to the customers, to be fair any fish cooked like that is just incredible. As a dish goes though I wouldn't specify one; the menu is always evolving and changing."
What three chefs have inspired you most?
"I'd say the three biggest inspirations are probably the three chefs I've worked for for the longest. It is a hard one though, because I've been inspired by a lot of chef for many different reasons. I remember growing up and watching Saturday Kitchen with James Martin, watching Great British Menu, with the likes of Phil Howard and Jason Atherton.
After my time at Benu, Corey Lee is a massive inspiration. He is a genius – like an actual genius – those people who just know. That's all that can be said.
David Everitt-Matthias he runs a tight ship. Le Champignon Sauvage has been going for over 30 years that is an achievement in itself,  he's there everyday single day 8 o'clock in the morning till the end. He also happened to teach me how to cook so a massive amount of admiration for this guy; he's one patient man.
Michael Wignall, I worked with Michael for four and a half years, I think that says it all really, but the way he uses only the best ingredients cooked to the highest standard with absolutely no room for anything sub-standard. An incredible chef."
What is your guilty food pleasure?
"Chocolate, man I have a serious issue! Anything chocolate, and anything sweet really."
What do you look for when choosing suppliers?
"First and foremost the quality of the product and then the consistency if they can manage to provide that product day in day out. Adam's is a busy busy restaurant, 1 saddle of lamb hung perfectly is straight forward, doing 25-30 a week isn't so easy."
What is the most memorable dish you have eaten?
"Maybe the lobster xiao long bao at Benu. Maybe the truffle risotto at the French Laundry, I've never seen so much truffle served in one bowl!"
What is your favourite drink (alcoholic or otherwise)?
"Soft drink would probably be my grandma's elderflower and lemonade, while alcoholic drink would have to be negroni."
Are there any ingredients you don't like to work with?
"Horseradish, it's just not for me that's all I can say."