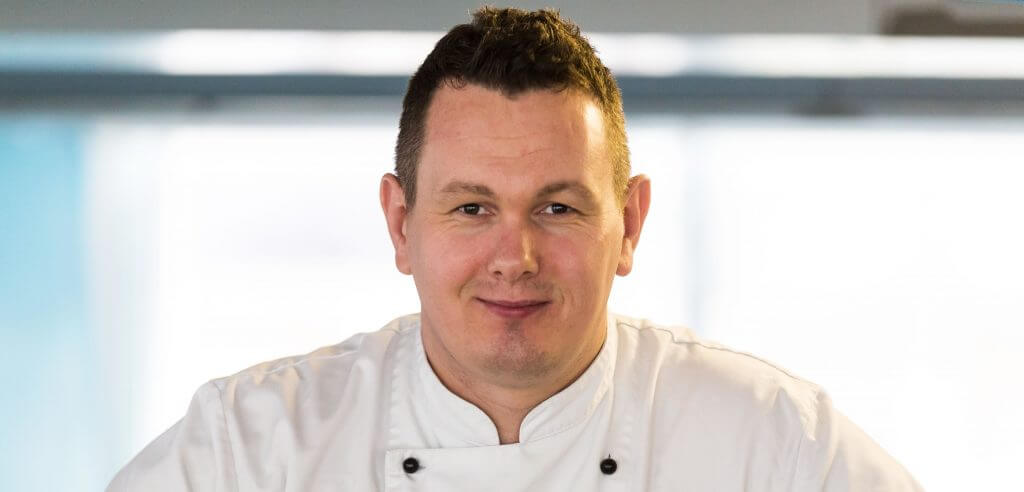 ANDREW GREEN
Andrew Green is a North-Westerner through and through, having lived in the area his entire life. His initial training came at Firenze in Glossop, an Italian kitchen. It was something he fell in to while at school, but came to fall in love with. His background includes Manchester's Radisson Blu, Alias Rossetti and The River Bar and Restaurant at the Five Star Lowry Hotel. Now the Head Chef of Mamucium, situated in the Manchester Indigo Hotel next to Victoria Station which opened in Autumn 2018, he achieved 2AA Rosettes within the first year of opening.
We ran some questions by him about his career and his life in food.
Where did you train professionally?
"Whilst I was working in my first job in my hometown, I attended Tameside College to complete my professional cookery course. I always say that although the colleges are in the position to award a qualification, the real training comes from the workplace; the better the workplace you work the better training you will receive. This also depends on the establishments training qualities also the trainer themselves. A few years later I attended Trafford college to complete my advanced pastry qualification."
What is your proudest moment as a chef?
"In 2018 I was short listed for the Cateys UK Hotel chef of the year. I never actually won the title, but I was immensely proud because if you think how many hotels there are in the UK and all of them have a chef, to be selected in the top 5 in the country speaks for itself. I was very happy about that."
What made you decide you wanted to be a chef?
"My first job as a chef was simply to earn money, it allowed me to work and also complete my A levels. At the beginning my plan was to finish college and attend university – why? Because everybody does this. It was in my first job that I discovered so many things about food that simply wow'd me every time. I absolutely fell in love with Italian food and it just grew to all food. I loved the fact that my independence with food was growing, it became apparent that cooking was actually a skill and not many people could do it well. The whole feeling can become very addictive especially the feeling that if your prepared to work hard you can do well in the profession."
What is your favourite dish to cook in the kitchen?
"My turn to dish is always pasta, it's something that you can always play around with. It's very inexpensive and there are so many combinations that you can come up with."
Which 3 chefs have most inspired you?
"One of my first head chefs was called Giuseppe, he was initially the person that taught me all the basics and some of the things that I'm still using today. He also told me of his life working in big cities and hotels and always encouraged me to try that side of the industry."
"Secondly my first Sous Chef position was for David Gale at the Alias Rossetti; he was a great mentor and genuinely great person. He has always stayed in touch with me and always made an effort to advise me on important decisions throughout my career. I have adopted a lot from him."
"Finally, one of my old head chefs that had a big impact on my career was Adam Tracey. He was my head chef while I worked at the Airport at the Radisson Hotel. Adam was a very young head chef who was very talented and inspirational to me. It was his role I finally took over to hold my first head chef position."
What is your guilty food pleasure?
"I love a good Shawarma; I love to see the meat spinning around on the rotisserie slowly with all the juices slowly running down. It is a cheap eat but very satisfying. I also love the way the breads are rolled in front of you and baked to order."
What do you look for when choosing your suppliers?
"It is a simple one – quality. I have used hundreds of suppliers over the years. Some people would say locality, some would say reliability, price etc. However, for me if the product is fantastic I'd pay what it's worth, I don t mind if it comes from a distance, if it's great then it does it for me."
What is the most memorable dish you have eaten?
"I have been very fortunate to eat in some wonderful place, some very high-class Michelin restaurants. However for me the most memorable meal was on my trip to Naples when I was 18 years old. I spent 2 weeks touring the area in and out of the city. I remember eating at a farmhouse, we had homemade wine, homemade bread that was so yeasty you could almost taste wine. We had freshly made pasta as our starter and veal as our main course served with lemons picked that day. I was in heaven."
What is your favourite drink (alcoholic or otherwise)?
"My favourite drinks are sweet cocktails – the best being an Amaretto Sour."
Are there any ingredients that you do not like to work with?
"I've never been that fond of using offal. I know many people actually love it, but sometimes I think when you yourself are not as keen then you tend not to incorporate as much unless requested."