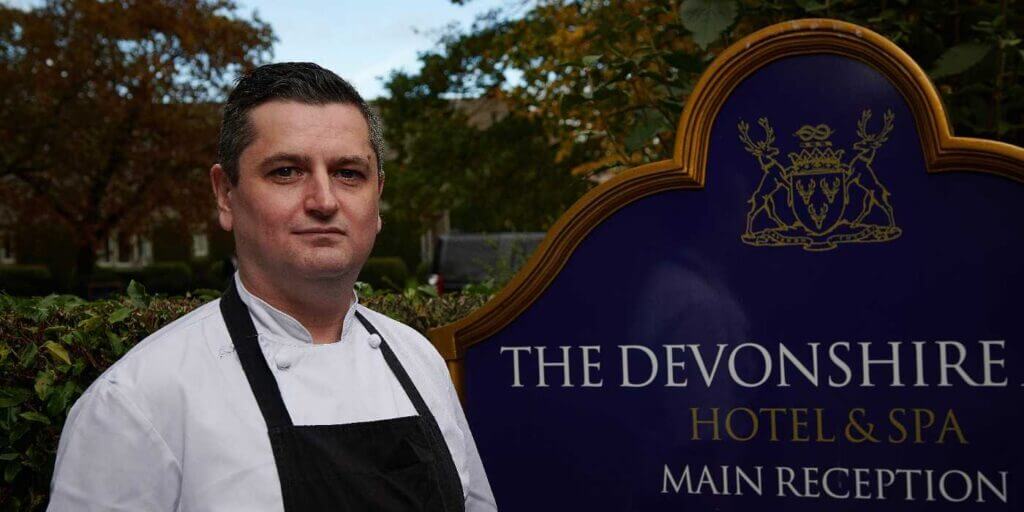 PETE HOWARTH
Pete Howarth is the current Head Chef of The Burlington Restaurant at the Devonshire Arms Hotel & Spa in Bolton Abbey. Pete has enjoyed an illustrious career, with Head Chef positions in amazing kitchens including The Samling, Gidleigh Park and The Latymer. We asked him a few questions about his culinary career as well as his personal personal tastes!
Where did you train professionally?
"Skegness Vocational College and Kenwick Park Hotel , Lincolnshire."
What is your proudest moment as a chef?
"Achieving 2 Michelin Stars as Head Chef at Gidleigh Park."
What made you decide you wanted to be a chef?
"We lived in a pub for 2 years when I was 11 and mum was too busy to cook for me all the time. So I was encouraged to cook for myself and I loved it. Being able to smash out gammon, egg and chips for 5 people when your 11 is a decent grounding."
What is your favourite dish to cook in the kitchen?
"I like to cook pork using different techniques for different cuts. I've always had the touch when it comes to pork. I remember disagreeing with my first scary Michelin Starred Head Chef about if the loin of pork, pot roasted with sauternes, was actually cooked; he gave it a squeeze told me to put it back in the oven but I insisted it was perfection. He said 'Ok, but you know its your head if its under'. He cut it down the middle hoping to beast the absolute bejesus out of me but the pork was perfect. I got the chef's respect from this not just for the cooking but having the bollocks to stand up to him!"
Which 3 chefs have most inspired you?
"Andrew Baird of Longueville Manor. I worked with him for 6 years and went from Commis Chef to Sous Chef.
Michael Wignall: 8 years with Mike in some of the best restaurants in the country, his work ethic is inspiring and he's an artist and master.
Gordon Ramsay: I love his passion and knowledge of world foods."
What is your guilty food pleasure?
"I have a chilli addiction and would have it with cornflakes if I ate cereal! But i put it on everything."
What do you look for when choosing your suppliers?
"Just the quality of the product. It's really easy finding good produce here in Yorkshire and I have used Yorkshire produce for 20 years now so have great relationships."
What is the most memorable dish you have eaten?
"A pork and cockle ramen in Japan. The waitress was beautiful and spoke no English, and I spoke no Japanese. I had to take her outside and point at the picture on the board, the ramen was simple and incredible."
What is your favourite drink (alcoholic or otherwise)?
"Sangsome Coke, Thai rum/whiskey that makes you hallucinate but with no hangover!"
Are there any ingredients that you do not like to work with?
"A few things: I hate hare because it smells like s**t, meadowsweet because it taste like s**t and oyster because it's horrible!"