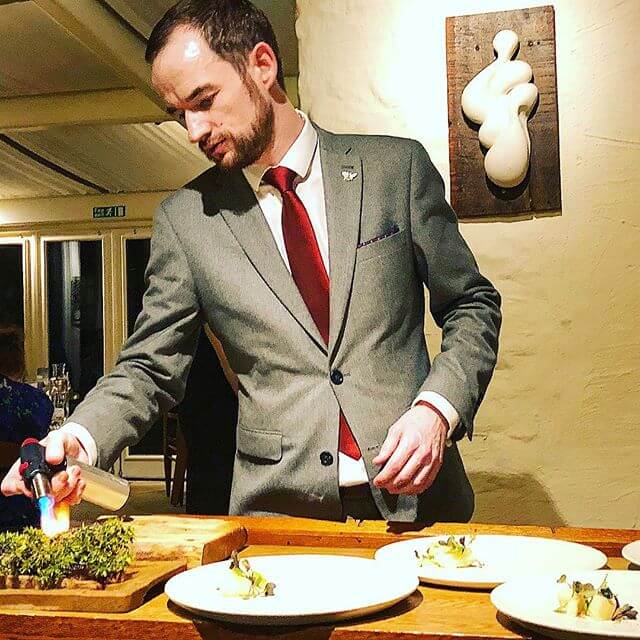 GEORGE NORRIE
This week we have an exciting '10 Questions For' with George Norrie, General Manager at 4AA Rosette Hipping Hall.
Described by Hipping Hall as "master forager, leader of men and all round good guy", George's background has included Lake Road Kitchen, The Samling and L'Enclume.
We got an insight into George's life in hospitality by asking him about some of his loves, passions, and the road he has taken in his amazing career to date.
How did you begin your career in hospitality and where has your career taken you?
"I guess for me it started at college level at Lancaster and Morecambe College. We achieved National College Restaurant of the Year while I was there and it gave me the opportunity to see my first Michelin Star restaurant in Le Champignon Sauvage. The faculty really did a great job of guiding and nurturing the students and creating a great platform for learning."
What is your proudest moment of your career?
"I would have to say nothing beats 26th September 2013; the day I was woken up to be told we'd been awarded a Michelin Star at The Samling. An unbelievable feeling and an unbelievable team."
Who has inspired you through your career?
"I guess there are two main inspirational people for me, for polar reasons as well. Alasdair Elwick and Sam Ward. They are both incredibly driven, focused people who have taught me many a thing during my career; and I often think back to their teachings whilst I operate. Thomas Mercier is someone else who gave me a lot of inspiration. It was through Thomas I gained a lot of confidence in my ability. These three guys mean a lot to me."
What do you like to do in your spare time?
"Well I've been foraging for around 7 years now and I love a good forage. But I also quite like mixing house music if I get a spare hour to myself."
What is your guilty food pleasure?
"Pies and sausage rolls. There is just something about meat in pastry that I can't say no to. I wouldn't say I ever feel guilty either!"
What is your favourite food/beverage to be able to serve on your menu?
"I think my favourite food that we're able to serve is the wild food we pick as a team. I think there is something very special about using ingredients that you have harvested as a team. For instance we went picking elderflower a couple of weeks back. We'll use this throughout the year in food and beverage offerings at Hipping and I find the outcome very wholesome."
What is the most memorable dish you have eaten?
"Simon Rogan's Pork and Eel. It's a snack which was served early on in the Tasting Menu at L'Enclume. I'll never forget how happy it made me feel. It's two bites if you have good self control, but the texture was unreal and the flavour of the smoked eel just hangs. It also came on a dollop of rendered down pig fat. That helped!"
What is your favourite drink (alcoholic or otherwise)?
"I would say my favourite drink is Anchor Steam Beer; it's great. I love a good dandelion and burdock as well."
Your favourite restaurant/hotel to eat/stay at?
"Obviously I will have to pick outside of The Wildsmith Group here. I would have to say a restaurant I have visited numerous times every year since it opened would have to be my favourite. The Old Stamphouse in Ambleside. Ryan and Craig have created a brilliant restaurant, and it's somewhere I always enjoy going."
What advice would you give to anyone looking to start in the industry?
"Make sure you enjoy what you do and how you do it. Because what you put into this industry you'll get out of it."